Winter
Winter fun for everyone – at the gates of Munich
Your winter specials with us
10% discount on winter sports rentals via Top on Snow/Top on Mountain
Reduced ski spa rates at Top on Snow/Top on Mountain
Ski pass sales conveniently on site
Ski bus transfer only 250 m from the hotel
A hotel that has it all if it comes to service and facilities. Innovative, modern, warm, family-friendly and suitable for business matters: that's the new Das Bayrischzell Familotel Upper Bavaria. Enjoy the finest winter pleasure right at our doorstep. What are you waiting for? Book a package deal and enjoy the anticipation! We look forward to welcoming you.
Ski holiday at Sudelfeld
Almost 80 km south of Munich, one of the most popular and largest ski areas in Bavaria awaits you: ski area Sudelfeld with 31 km of slopes of all difficulty levels - embedded in the beautiful Wendelstein region. The Sudelfeld ski area is right at our doorstep - the connection is made either with a ski bus to the Sudelfeld valley station (approx. 15-30 minutes uphill) or with a nostalgic single-seat lift from Bayrischzell directly to the ski area (not suitable for beginners). Families with children enjoy a varied offer and rustic alpine huts and inns attract with sunny facilities for the well-deserved stop. You can purchase the ski pass on site at the hotel.
Ski school and ski rental
At the valley station of the 6-seat Waldkopf lift you will find a state-of-the-art service centre with ski school, practice slope and children's area (Kinderland) as well as ski service, ski rental and -shop on 500 m². Here, the fun in white begins! Our competent and child-friendly partner for ski courses is at your disposal. You can book the ski course directly at the hotel on the arrival day or register with Top on Mountain - directly oppositehe hotel. You can also rent the right ski equipment directly from our partner Top on Mountain.
Snowpark
Freestylers, watch out! In the professional snowpark at Sudelfeld with its numerous obstacles, wave slope and steep curves you will experience true jumps of joy. The action-elorado has become the hotspot in the scene.
Ski touring & snowshoeing
Even those who want to take it a bit easier, are at the right place at Sudelfeld. Two ski tours await you - a day tour during the opening hours at daytime and an evening tour every Wednesday between 6 and 10 pm. For snowshoeing the Bayrischzell region offers 25 tours to discover the marvellous, snow-covered scenery. Also here our partner Top on Mountain is available for the rental of equipment and/or as a guide.
Cross-country skiing
The network of cross-country skiing trails in Bayrischzell is impressive: over 100 km of groomed trails for classic and skating style through beautiful valleys. Tip: on the "Bayrischzeller Route 36" you can ski 36 km of trails in both classic and skating style in one piece. With the Bayrischzell guest card the cross-country trails can be used free of charge. You are welcome to book a cross-country ski course and the cross-county equipment with our competent partners - you can register directly with us at the hotel on the arrival day or register with Top on Mountain (directly opposite the hotel) and rent the appropriate equipment.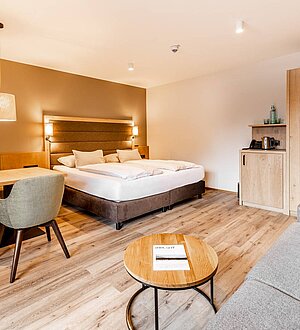 Your private empire in Upper Bavaria.
Details
Room overview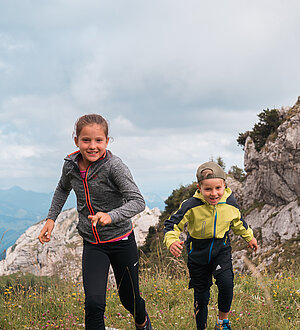 A summer dream in the Bavarian mountains!
Details
Summer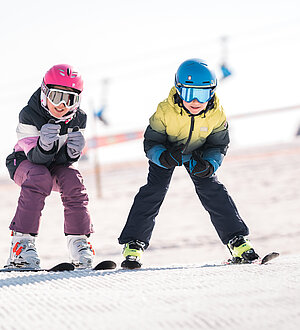 Experience winter in Bayrischzell: winter fun for everyone - at the gates of Munich
Details
Winter