Autumn break
Autumn break with kids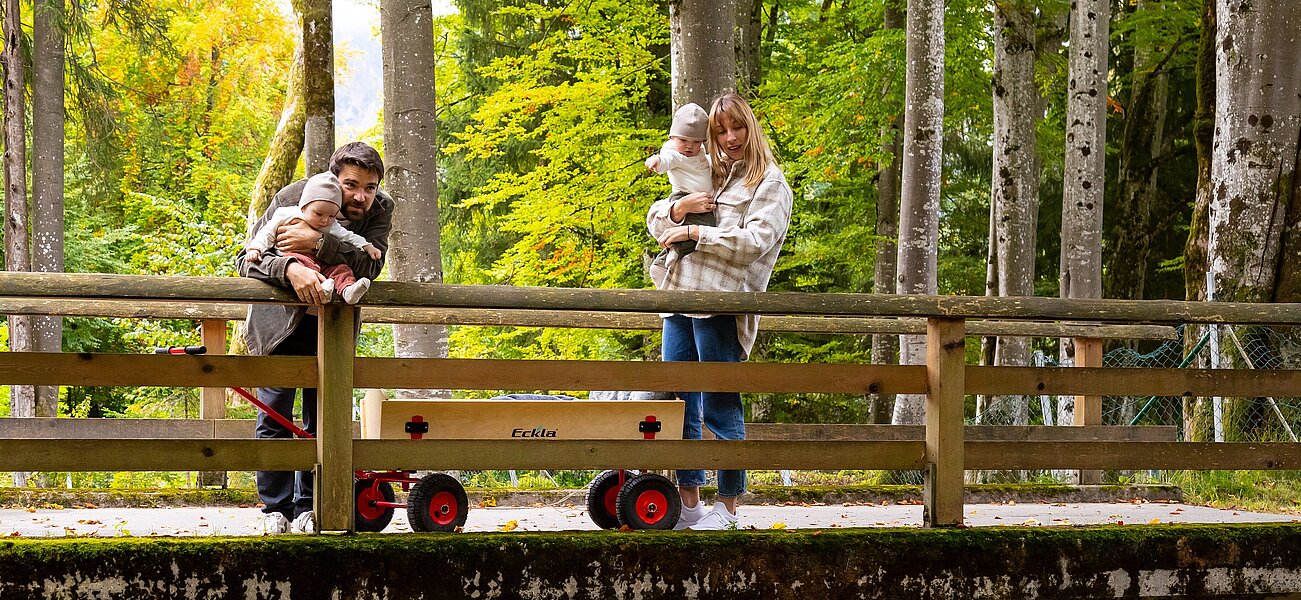 Are you planning an autumn break with your children? Das Bayrischzell Familotel Oberbayern offers the perfect mix of alpine adventure and relaxation with our Move & Relaxprogramme. Spend an unforgettable holiday at our family hotel in Upper Bavaria.
Experience the golden autumn in the Tegernsee-Schliersee region of the Bavarian Alps and relax with your children at Das Bayrischzell Familotel.
Get in touch:
+49 8023 8194 600
Autumn hiking & cycling tours in Upper Bavaria
Enjoy the golden autumn with your children on long hiking and cycling tours in the breathtaking alpine landscape of Upper Bavaria. An autumn break offers the perfect opportunity to get some fresh mountain air and enjoy the bright colours of this special time of year.
The diverse hiking routes and mountain tours around Das Bayrischzell Familotel ensure you'll enjoy carefree hours in the Bavarian Alps. During your family hiking tour, you can recharge your batteries and experience big and small adventures with your children.
Biking is one of the more popular activities for the autumn break. Whether you fancy a challenging MTB tour with your teens or an easy-going cycle path tour with your little ones - Upper Bavaria offers the ideal landscape for an unforgettable bike tour in the autumn break.
Excursion destinations around Das Bayrischzell Familotel
There are many places of interest in the region surrounding our family hotel that are worth a visit during an autumn break with your kids. Discover alpine culture and cuisine on a family excursion in Upper Bavaria and neighbouring Tyrol, and experience unforgettable happy moments with your kids.
Please feel free to contact us: +49 8023 8194 600
Autumn spa break with kids
Are you planning a spa holiday this autumn? Then Das Bayrischzell Familotel Oberbayern is the perfect destination for your autumn break: You can relax and unwind together in our 1,700 m² sports and spa area<strong/>:
Indoor pool with Pletzi's Water World for your kids
Spacious sauna area: family sauna, steam bath, Finnish sauna, bio sauna and infrared cabin
Plunge pools and relaxation lounges
Beauty treatments & massages
Gym
When mum and dad want some 'me time' in the Move & Relax area, the kids can enjoy our childcare activities in the Pletzi's Happy Club.
Visit the Munich Oktoberfest
Every year, the Oktoberfest attracts visitors from all over the world to the Wiesn in Munich. In recent years, the event has grown to include a large number of exciting, child-friendly attractions . With campaigns such as "Wiesn hits for kids" and other special offers for families with children – you'll never experience a dull moment on a family excursion to the Oktoberfest.
For families with young children, the Familienplatzl is perfect place to enjoy the festival: Here you can relax at a table or in the beer garden, enjoy hearty snacks and watch your kids participate in fun-filled activities in the children's area. The following Oktoberfest attractions promise fun and laughter the whole family:
Pony rides
Baby flight
Flying chair
Zugspitzbahn
Wild Mouse
Fascinating stalls round off the Oktoberfest fun at the Familienplatzl with traditional Bavarian delicacies.
Oktoberfest offers special services for families with young children such as pushchair parking and baby changing rooms.
Would you like to enjoy a bird's-eye view of the Munich Oktoberfest? Then hop on the cosy Riesenrad (Ferris wheel). TheWellenflieger (Wave Flight) - the oldest swing carousel at the Munich Oktoberfest - also guarantees a unique view of the traditional autumn festival. Even the little ones like sitting on their mum or dad's lap while "flying" around on the carousel.
The Toboggan (giant slide) has been at the Munich Oktoberfest since 1906. Here children can slide down with their parents without haste or danger. Faster but just as safe for children is the 55 meter long Münchner Rutschn (Munich Slide), which descends in waves.
Menzel's Munich Zugspitzbahn takes passengers on a fast ride through winter wonderland. With a lot of momentum and rocking, it whisks the little ones around the charming winter landscape - and that in the middle of late summer.
An autumn excursion for the whole family in Bavaria
Whether you plan in advance or decide spontaneously - if you are on holiday at Das Bayrischzell Familotel in Upper Bavaria in autumn, you should take the opportunity to visit to the Munich Oktoberfest for a day.
Comfortable arrival by train: You and your family can travel comfortably with the Bavarian Oberlandbahn - without changing trains - in just 1 hour and 15 minutes to the Oktoberfest in Munich.
Das Bayrischzell Familotel Oberbayern is just a short walk from a tranquil train station, saving you an additional journey by car or bus. Take advantage of this opportunity and enjoy a comfortable ride on the Oberlandbahn through the beautiful Bavarian landscape.
Family-friendly Oktoberfest lunch: Oktoberfest lunch: Fairground rides are not the thing you can enjoy during a golden autumn in Munich. Mittagswiesn (Oktoberfest lunch) offers traditional Bavarian delicacies that are well worth sampling.
Lunchtime is a good time to visit Oktoberfest as it is quieter and mainly attended by families during this period, and reservations are not required.
Oide Wiesn: This separate area is just right for families and those interested in Oktoberfest history. Here you can travel back in time to the festival as it was in the 1950s. The Oide Wiesn is an insider tip among families in the Munich area.
Experience the Tegernsee-Schliersee alpine region in autumn
A tour of the nearby Lake Schliersee or the picturesque Lake Tegernsee – either around the lakes or on a a Bavarian lake boat trip– is a beautiful and relaxing way to enjoy the golden autumn in Bavaria.
Boat trip on Tegernsee
Peaceful and tranquil: the charming Lake Tegernsee. Shimmering blue and nestled in the Tegernsee Valley with its quaint villages, wooded hills and lush meadows. From the boat you get a whole new perspective of the Bavarian picturesque landscapeand you can relax wonderfully on the sun deck - even in autumn. You may even get a little sunburn.
Our personal tip for beer lovers is a visit to Bräustüberl Tegernsee. Here you and your family can enjoy the picturesque view of the lake and the colourful autumn landscape with a drink.
You can reach Lake Tegernsee in just 30 minutes by car. If you prefer to be more active, you can hop on a bike: It takes our guests just 1.30 h to cycle to the popular starting point for young and old. At Lake Tegernsee, you can enjoy typical Upper Bavarian nature in its purest form.
Boat trip on the peaceful Lake Schliersee
The gentle rocking of the waves, the light lake breeze and the panoramic view over Lake Schliersee and the Bavarian Alps – the Schliersee boat trip has been inviting passengers to enjoy an idyllic tour of the lake since 1897. The 45-minute round trip offers an opportunity to discover the lake and the surrounding nature from a different perspective. You can relax on the sun deck and aft deck and savour the surrounding mountain panorama to the full, even in autumn..
An alternative way to explore Lake Schliersee is to hire a pedalo. Paddling on the lake is great fun for young and old alike and the pedalo allows visitors to explore the lake on their own. An idyllic tour of Lake Schliersee is a great experience for the whole family.
Lake Schliersee is a top tip for families who want to relax and unwind and enjoy the Bavarian nature to the fullest.
Lake Schliersee is only 15 minutes by car from Das Bayrischzell Familotel Oberbayern. This excursion destination is also perfect for a bike trip.
Markus Wasmeier Freilichtmuseum Schliersee
The Markus Wasmeier Open-Air Museum takes you on a journey through time back to life in bygone days in Bavarian Oberland. The host of the historic Bavarian farm village, spread over 60,000 m², is the skiing legend Markus Wasmeier. The open-air museum is within walking distance of the southern shore of Lake Schliersee and is directly opposite the Fischhausen-Neuhaus train station.
In addition to the farm, visitors will discover almost forgotten regional grain varieties that are grown at the museum. Families will also find the following animals on the extensive grounds:
Bees
Chicken
Pigs
Cows
And much more
The museum also hosts various events: from a Weisswurst (white sausage) seminar to herb tours to an open-air concert.
HAPPY MOMENTS during the autumn break
Das Familotel Bayrischzell Oberbayern offers a range of services for parents, kids and teens. We cater to the needs of all family members and offer a multitude of leisure activities to suit all ages:
Spending an autumn break at our family hotel offers the perfect balance of shared adventures and personal moments of pleasure. Here you can enjoy the golden autumn in the Tegernsee-Schliersee alpine region to the fullest!
Book your autumn break with us!
Autumn break: Where to go with the kids?
The autumn holidays offer a great opportunity for a short break with the whole family. When choosing a destination for an autumn break with kids , you should look for a good mix of indoor and outdoor activities. Come rain, a hotel with asports and spa area offers a great way to enjoy the day with children.
When the weather is sunny in autumn, a hike or bike tour is a wonderful way for young and old to explore the Bavarian Alps. Family hotels like Das Bayrischzell Familotel Oberbayern offer this mix of indoor and outdoor activities for an unforgettable autumn break. Professional childcare and delicious meals that appeal toparents, kids and teens perfectly round off the holiday experience at a family hotel.