Holidays with kids and dog
Holiday with kids and dog
at Das Bayrischzell Familotel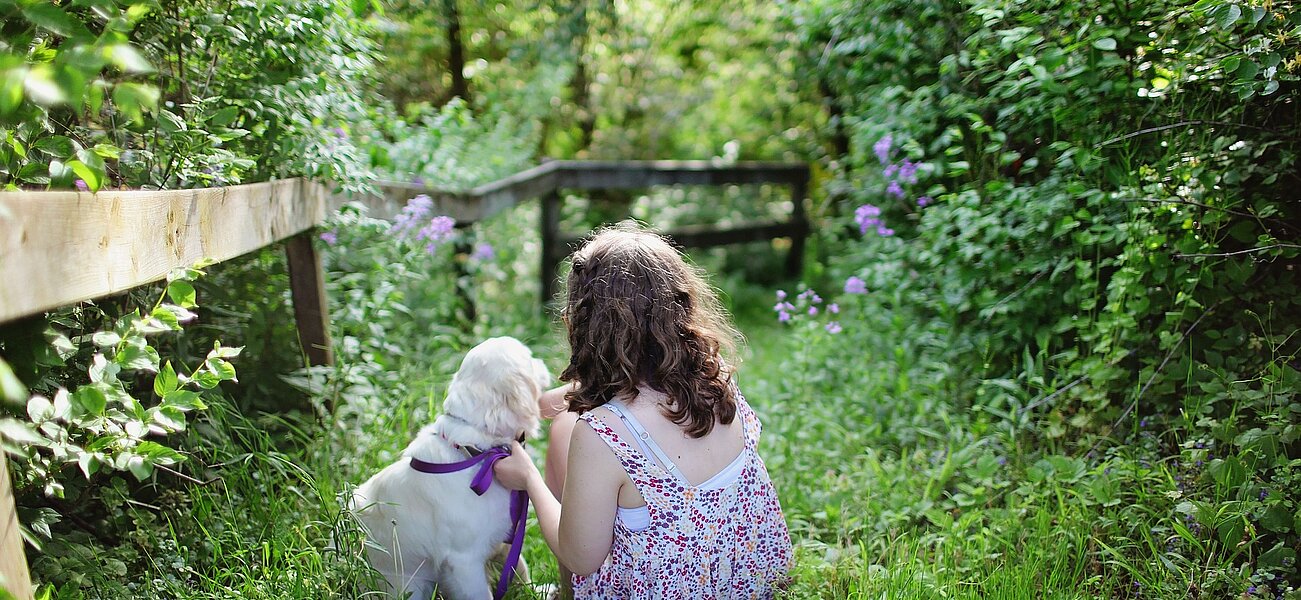 Does a holiday with kids & dog sound like the perfect family holiday for you? Das Bayrischzell Familotel in Upper Bavaria welcomes you with kids and your four-legged friend! At our family hotel, two- and four-legged family members can relax and be pampered.
The Tegernsee-Schliersee region offers the perfect setting for a holiday with kids and dog in the Bavarian Alps. Here in Upper Bavaria, you can experience adventure and relaxation together.
Enquire about a holiday with kid & dogs now.
Dog-friendly family hotel: Happy family & happy dog
Is your dog an important family member? At Das Bayrischzell Familotel, we understand that your dog is your children's playmate and mum and dad's best friend and is therefore an important family member that should be with you on holiday.Our family hotel offers excellent amenities for a holiday with dog:
Spacious apartments with enough space for dogs
Dog mats & bowls
Open house for well-behaved dogs
Various excursions for two- and four-legged friends
Excursions with dogs around Bayrischzell
The picturesque alpine village of Bayrischzell is the starting point for many hikes and mountain tours that are suitable for you, your kids and your family dog. There is much to discover and sniff out on the hiking routes. Dogs are welcome guests on most alpine pastures and mountain huts in the region. Along the way, you can enjoy a traditional Bavarian snack and savour the breathtaking mountain panorama together.
The Wendelsteinbahn allows commuters to travel with dogs on its cable car and cog railway lines. A fee of €5.00 per dog will be charged for the ascent and descent. If you have any questions about excursion destinations with dog & kids, the reception team at Das Bayrischzell Familotel will be happy to advise you.
Get in touch:
+49 8023 8194 600
Dogs are not allowed in many spa hotels. Not so at Das Bayrischzell Familotel in Upper Bavaria. Our family hotel has a 1,700 m² sports and spa area and welcomes families arriving on a spa holiday with their dog .
Spacious sauna area
Indoor and outdoor pools (unfortunately dogs are not allowed to swim here)
25 m sports pool
Relaxation lounges
Massages & beauty treatments
At Das Bayrischzell Familotel, you don't have to do without spa treatments and relaxation just because you are on holiday with kids and dog. However as a dog owner, you will understand that your dog cannot accompany you into the spa area.
Swimming with dogs: Lakes for two- and four-legged friends
Much to the delight of families with dogs, the Tegernsee-Schliersee alpine region region offers many opportunities for swimming with dogs. The lakes in the picturesque Bavarian Alps invite you to take a refreshing dip in the cool waters during your summer holiday.
Tips for bathing with your dog:
Lake Schliersee: Dogs are very welcome bathers at Lake Schliersee (approx. 15 km by car). Your dog can enjoy jumping into the water from several public entry points. However, dogs are only not allowed in the lido. Lake Schliersee offers many opportunities for a relaxing excursion with dog and kids.
Lake Spitzingsee: Spitzingsee (approx. 15 km by car) is one of the largest alpine lakes in Bavaria. Here you can enjoy a day of swimming against a picturesque backdrop. Dogs are allowed in the water but must be kept on a leash along the lake.
Rottach-Egern dog beach: On Lake Tegernsee, the Rottach-Egern dog beach (approx. 45 minutes by car) invites two- and four-legged friends to have fun in the water. Here dogs and children can romp in the water and have a good time at Lake Tegernsee in Upper Bavaria.
Bad Wiessee dog beach: Bad Wiessee dog beach is located on the west side of Lake Tegernsee, in the district of Abwinkl. After 45-minute drive, you'll reach a bathing paradise for the whole family, where you can jump together into the cool Lake Tegernsee.
Where to go on holiday with kids and dog?
An ideal region for a holiday with kids and dog is one where you can go on adventures together, including long hikes in the great outdoors. Instead of a hectic city holiday, a holiday in nature or in the mountains is more suitable for a dog and kids. During your summer holiday, you should make sure that the holiday region you choose offers opportunities for swimming with your dog and kids. Family hotels where dogs are also welcome are ideal. They offer plenty of opportunity for everyone to relax with various activities and enjoy a perfect family holiday together. Das Bayrischzell Familotel in Upper Bavaria offers everything you need for a holiday with kids and dogs in Bavaria.