Kids Club
Holidays with children: Kids Club adventures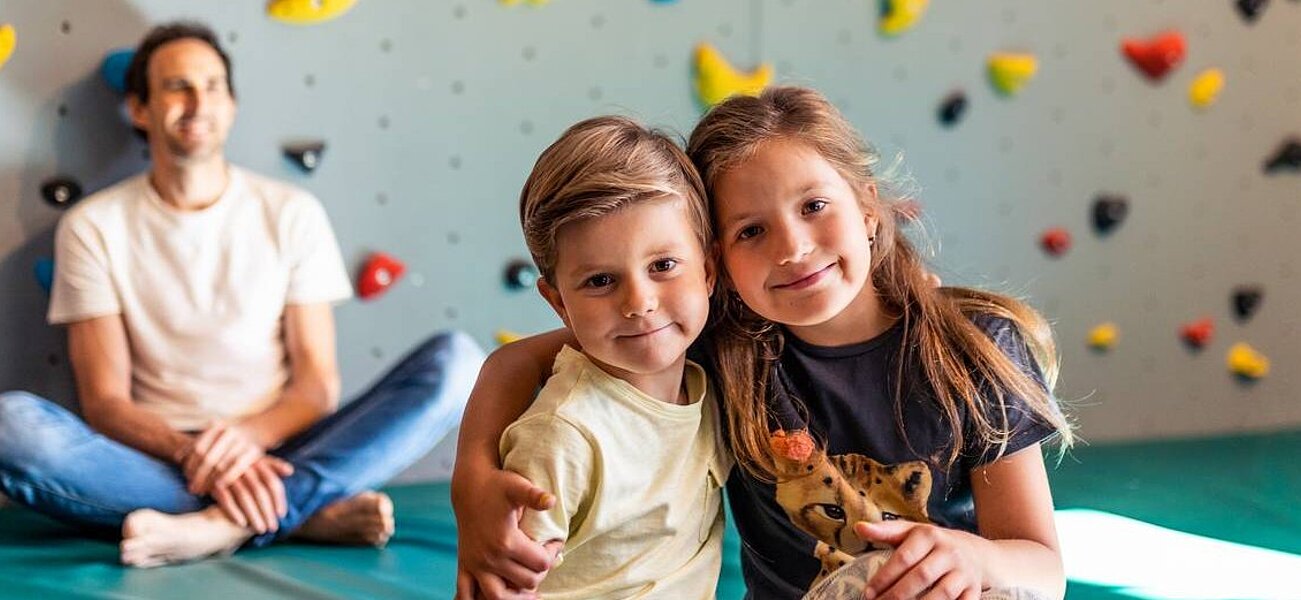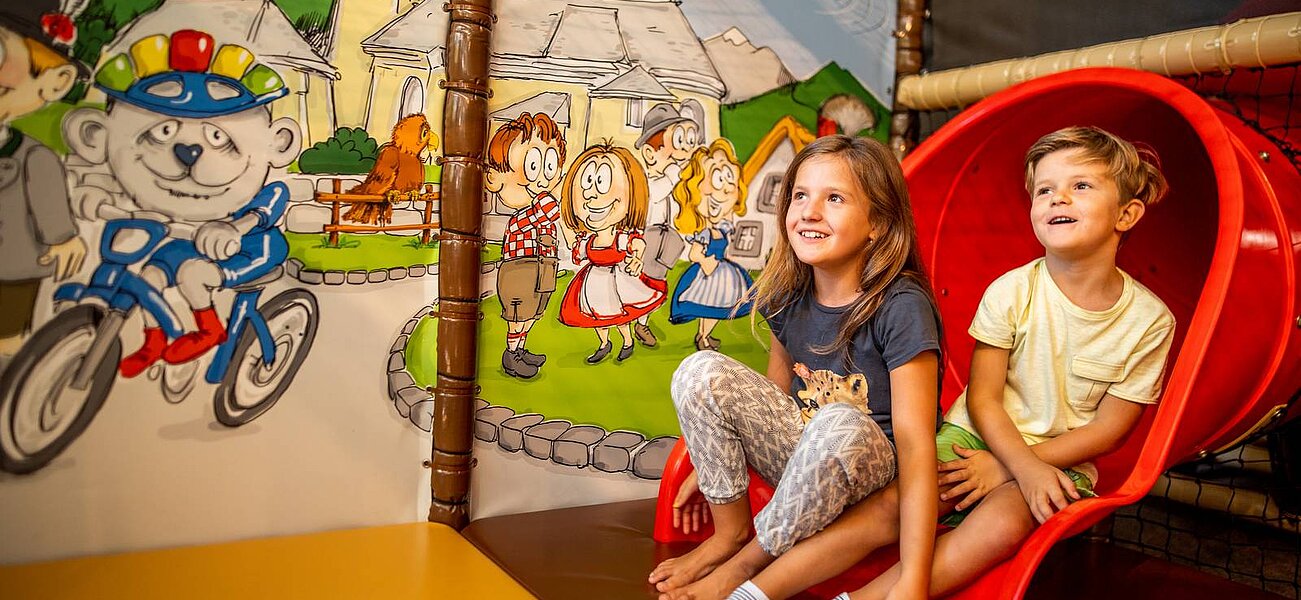 Are you planning a holiday with children and want to offer your kids real fun and adventure? Then the Kids Club at Das Bayrischzell Familotel is just the thing for you and your children. Here they can romp around, have fun and channel their youthful energy in a meaningful way. Even on rainy days, your little ones can let off steam in Kids Club's large indoor play area , meet new friends and be happy - in summer or winter.
Kids Club: Open area for pure adventure
The Kids Club in Das Bayrischzell Familotel makes children's skip a beat on a family holiday. A colourful world of imagination, activity and adventure awaits your kids at our family hotel.
Your children can visit the Kids Club alone or with their parents. Please note that the Kids Club does not offer childcare. If you want professional childcare, your children should visit ourPletzi's Happy Club, which has a full supervision and activity programme.
Soft play area: indoor playground for pure adventure and activity
The spacious indoor soft play area at Das Bayrischzell Familotel makes children's eyes light up. It's an adventure world that activates a child's imagination and encourages the little ones to move with all their senses. There are two levels for your kids to explore, which not only improves their sense of balance, but also guarantees maximum fun.
Swing, jump, romp, climb and roll
Indoor slide
Spider climbing tower with three floors
Spider climbing tower with three floors
Obstacle course
Soft play elements for toddlers
With the play facilities available in the Kids Club, not even bad weather can spoil the family holiday fun. Instead of boredom and cabin fever, the little ones can really let off steam in the indoor soft play area at Das Bayrischzell Familotel.
Indoor bouldering wall for kids
Is your child a real climbing enthusiast? Then the indoor bouldering wall in the Kids Club is just the thing for your little one. Our bouldering wall has fall protection mats to ensure safety while the kids climb up, hold by hold. Free climbing up to a height of 3 m trains body coordination, boosts self-confidence and strengthens the core muscles - perfect for active, little adventurers who broaden their youthful horizons every day. It doesn't matter whether your child is a potential climbing champion or casual boulder, all junior climbers will be in their element in the Kids Club.
Wendelstein Park playground
At Das Bayrischzell Familotel, your kids can also climb, slide and romp around outdoors. The Wendelstein Park playground offers all the pleasures of a modern playground. Mum and dad can watch their little ones play with other kids – or even join in!Wendelstein Park is an important part of what we offer as a family hotel as it gives children adequate space and opportunity to exercise so that they can fall asleep happily in the evening.
Please feel free to contact us: +49 8023 8194 600
Wo Urlaub mit Kindern in Deutschland machen?
Germany is a popular destination for holidays with children.Especially southern Germany, where the alpine landscape fascinates all members of the family. Das Bayrischzell Familotel Oberbayern offers a wide range of indoor and outdoor leisure activities for young and old. Families that stay with us also appreciate our excellent childcare and spacious apartments.
When booking aholiday with children in Germany you should pay attention to the following: Are thereleisure activities for everyone? Is there childcare you can rely on? Is it a family hotel where the needs of parents and children are at the heart of the services provided?
What to take with you on a holiday with children?
It's best to draw up a packing list, which you can start to check two days before departure. That way you can stay calm while packing and you won't forget anything at home. What parents should always pack:passports, vital medication, necessarybaby food, diapers, favourite toy/cuddly toy. Sufficient clothing, appropriate for outdoor activities and weather at the resort is also a must
Many children's hotels allow you to borrow baby carriers, bottle warmers, cots, etc. to minimise your luggage. Das Bayrischzell Familotel Oberbayern also offers thisfree service for families with babies and small children.
Which holiday with baby/small child?
If you're planning a holiday with ababy or small child, you should avoid long journeys. Try to limit the journey by car to a maximum of half a day. It is best to arrive at night when the little ones have fallen asleep during the journey. Make sure that the planned activities suit your child's age and do not overwhelm you or your little one.
A nature holiday with a baby or small child is an ideal choice - the Tegernsee-Schliersee alpine region offers the perfect setting for the firstfamily holiday. As a family hotel, Das Bayrischzell Familotein in Upper Bavaria caters to the needs of parents and children, which makes aholiday with a baby or small child a relaxing experience.