Getting here and getting aorund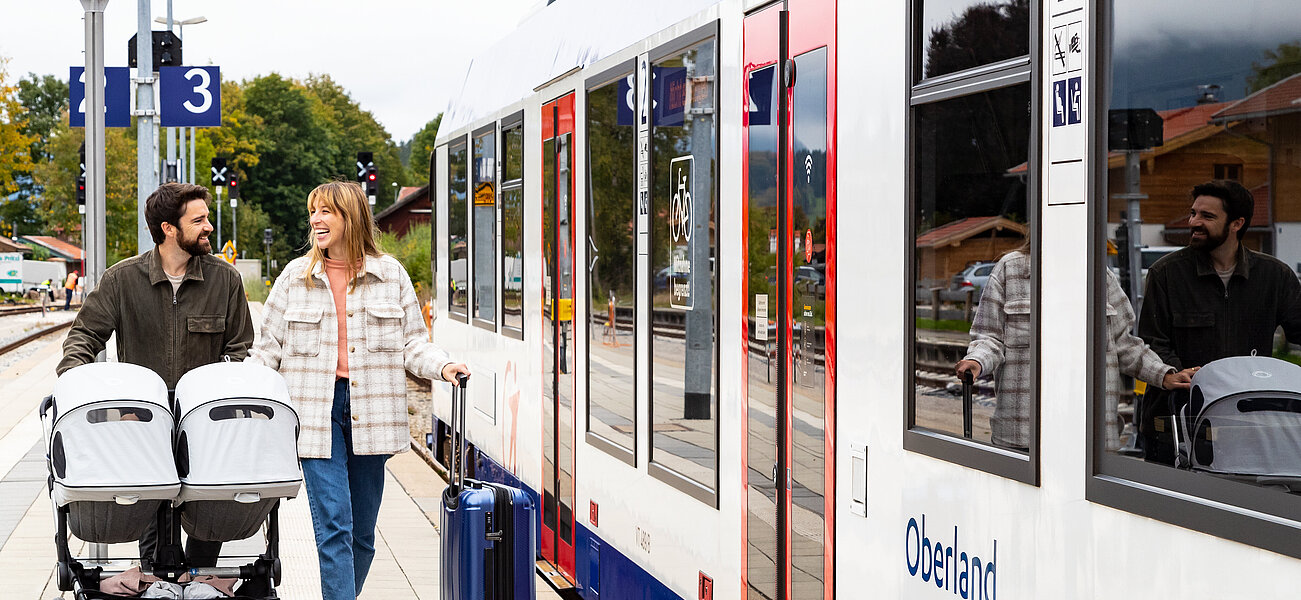 A smooth journey by train is guaranteed. The train station is only 150 m from our hotel. It's that easy!

Bayrischzell offers you the unique opportunity to arrive stress-free and thoroughly relaxed. Do something good for yourself and environment by travelling "green".
Long-distance trains from all over Germany and Europe arrive in Munich several times a day. You can then transfer to the BOB (Bayrische Oberlandbahn), which takes you quickly and directly from the state capital to Bayrischzell train station.
1 h 20 min Munich - Bayrischzell
3 h Nürnberg - Bayrischzell
4 h Stuttgart - Bayrischzell
5 h 30 min Frankfurt - Bayrischzell
5 h 30 min Leipzig - Bayrischzell
6 h 30 min Berlin - Bayrischzell
You can find the current timetable at:https://www.bahn.de/p/view/index.shtml
Tipp: GETTING AROUND WITH OUR BMW I3: Our hotel has new e-cars, which you can hire at any time for a fee of €30 per day. This will allow you to explore our beautiful region at your own pace and in an environmentally friendly manner. Our e-charging stations are available to you free of charge.
Advantage of Pletzer Resorts' mobility
And in line with the motto "The best comes at the end", we will even reward you if you arrive by train: you will receive a free room upgrade*.
So - go green! We look forward to welcoming you and so does the environment.
*Depending on availability and only for direct bookings; does not apply for reduced prices or packages.
Arriving from the north: Take the A8 Munich - Salzburg motorway to the Weyarn exit and then the B472/B307 via Miesbach to Bayrischzell
Arriving from the south: Take the A8 Salzburg - Munich motorway to the Irschenberg exit and then the B472/B307 via Miesbach to Bayrischzell.
Arriving from the south: Take the A12 (Inntal) autobahn Kufstein - Munich to the Kufstein Nord exit, then head towards Kiefersfelden/Thiersee, at the roundabout continue in the direction of Thiersee and then turn left onto Thierseestraße, follow this road via Thiersee and Landl to Bayrischzell.
In Bayrischzell drive in the direction of the train station, then turn into Kranzerstraße 6.
A free car park is available directly opposite the hotel (150 m on foot). Reserving a space in advance is not necessary. You will receive the parking permit at the reception when you check-in.
Munich Airport is about 1 to 1.5 hours drive (109 km) from Bayrischzell. There is a regular S-bahn service that takes you with the S-Bahn lines S1 and S8 directly to Munich Central Station (Arnulfstraße). There is also an airport bus to Munich Central Station. From there you can hop on the BOB, which runs every hour.
You can find the current timetable at: https://www.bahn.de/p/view/index.shtml