Nordic sports – Nordic walking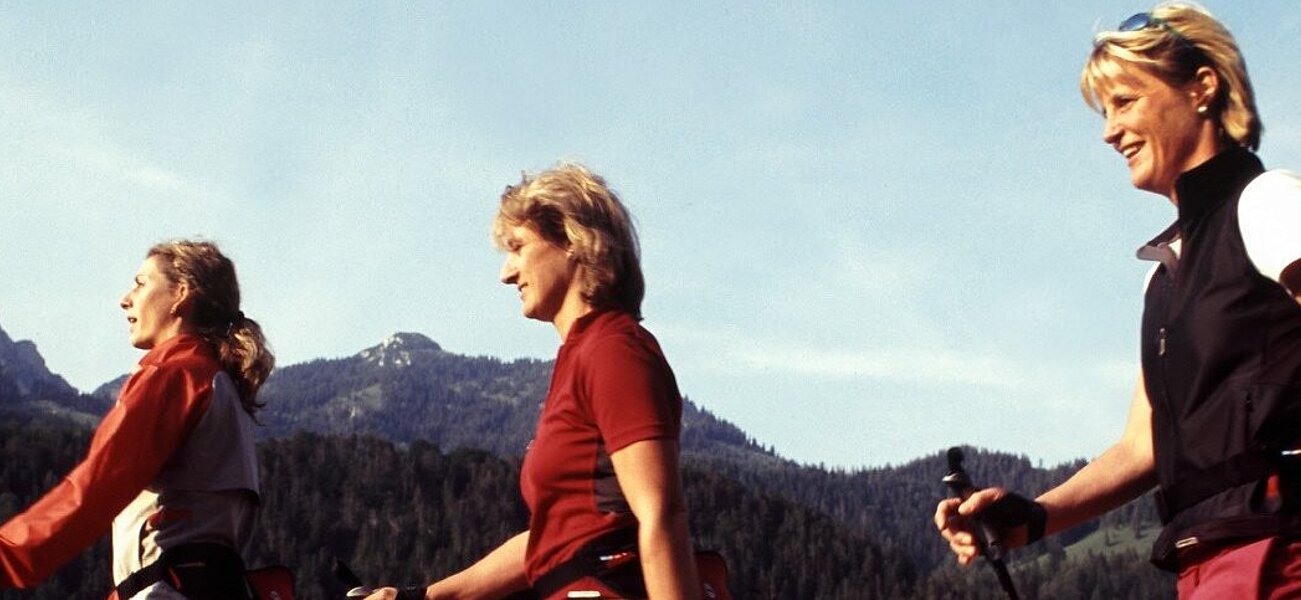 Nordic sports are in trend. Why? Because they are easy to learn and offer a gentle way to practise endurance sports. Dynamic movement during Nordic walking or cross-country skiing boosts both the immune system and the cardiovascular system and lowers high blood pressure.
Nordic walking is the perfect sport for people with weight issues, people with minor joint problems and those just starting out. The training activates a large part of the human muscular system and burns calorie. Learning the right technique is important to avoid biomechanical stress and ineffectiveness.
The DSV Nordic Active Centre in Bayrischzell offers ideal conditions for Nordic walking and cross-country skiing, classic or skating. This healthy type of exercise in the fresh air is fun and keeps you fit. In Bayrischzell and the surrounding region, there are many routes that promise pure enjoyment for outdoor exercise - always with a view of the Bavarian Alps.
DSV Nordic Active training centre
The Tegernsee-Schliersee alpine region has been officially certified as a DSV Nordic Aktiv training centre in Bavaria by the German Ski Association since 2010. This verifies that the region has the perfect infrastructure for all things relating to Nordic sports, first-class courses, advanced training and excellent local support.
Whether it's Nordic walking, Nordic blading, Nordic skiing, Nordic snowshoeing, running/trail running, speed hiking, mountain biking, trend sports (slacklining etc.), prevention or therapy - the DSV Nordic Active training centre in the Tegernsee-Schliersee alpine region offers everything you could wish for to enjoy Nordic sports.
The German Ski Association's quality assurance ensures excellent facilities for all Nordic sports. Whether it's cross-country skiing or Nordic walking – the routes and trails are well-signposted and groomed, offer changing and shower facilities on the trails, and the DSV organises first-class courses and advanced training. You can test the trails and routes in the DSV Nordic Active Centres in Bayrischzell, Schliersee and in the Tegernsee Valley for yourself. And while you're here, why not joining a training session?
The training centre in Bavaria trains opinion leaders from the sports and health sectors such as trainers, physiotherapists and sports teachers. The equipment partner finds the opinion leader and the opinion leader finds the retailer. The training centre also serves as a contact for sports organisers and the media. It also has attractive offers for all sports enthusiasts.
Nordic walking & trail running
Running and skating in Bayrischzell
The Bayrischzell region is a paradise for runners. With 31 routes, amateur athletes and active holidaymakers have a range of trails to choose from. The 5 Nordic walking paths and 26 trail running routes lead through the Bayrischzell region and invite you to explore the Bavarian Alps. Here are a few highlights of the region: