Holiday with baby
Holiday with baby:
Das Bayrischzell Familotel Oberbayern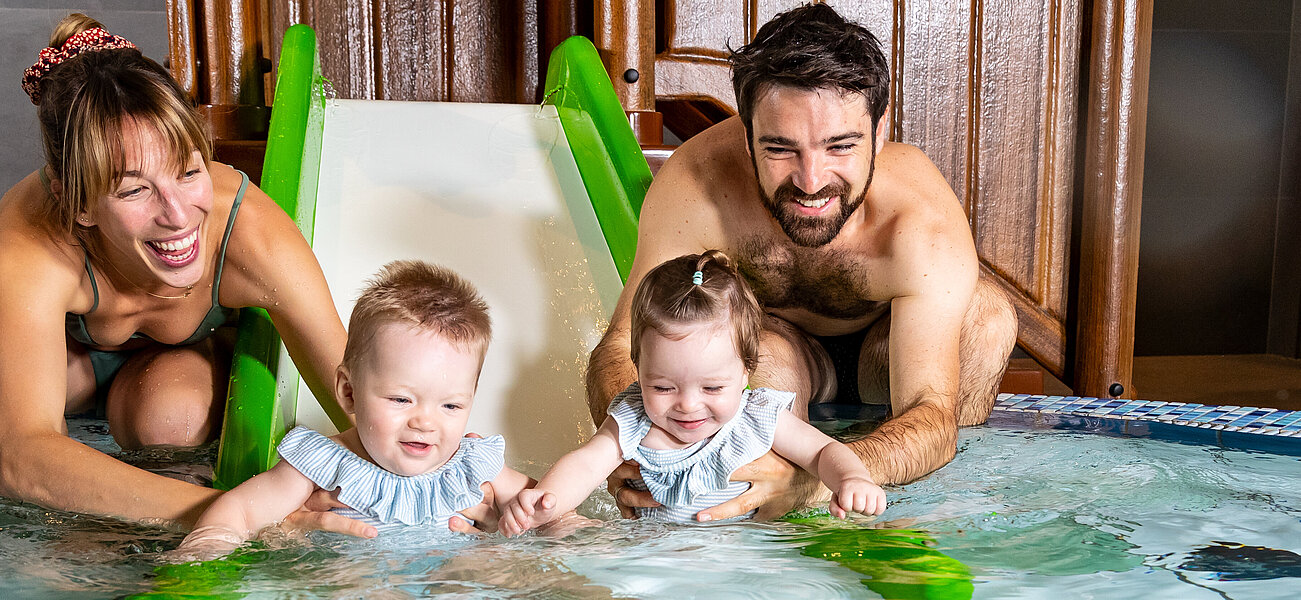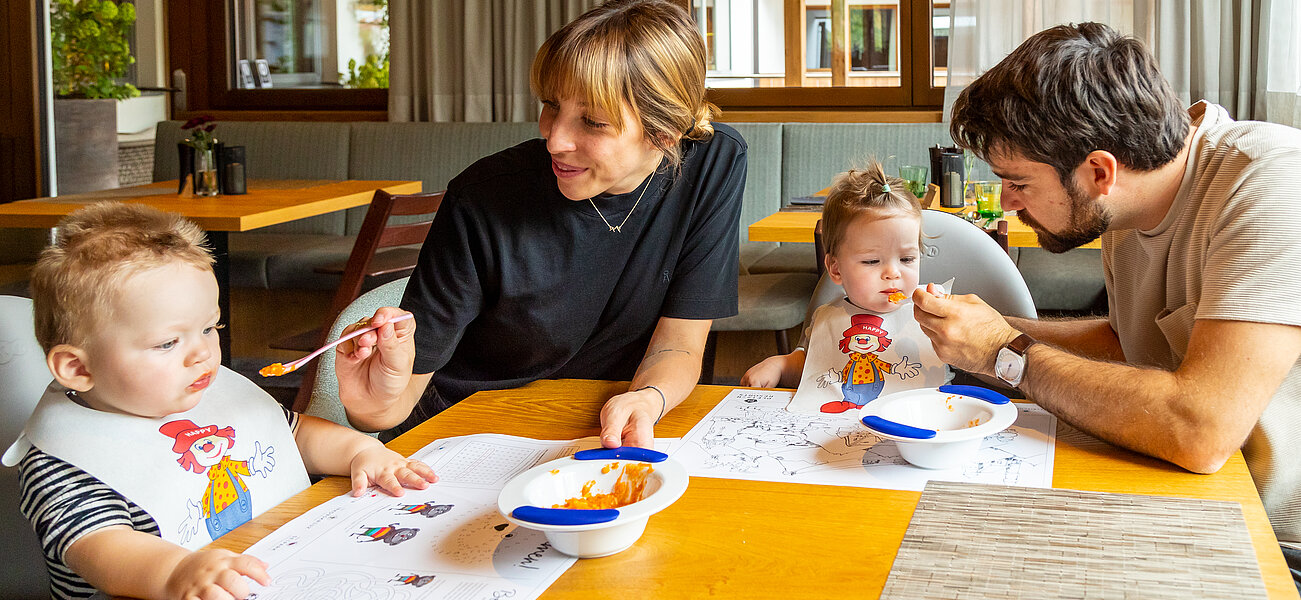 Are you planning a holiday with a baby? ThenDas Bayrischzell Familotel in Upper Bavaria is the perfect choice for a holiday with your little one. Our hotel in Bavaria offers everything you need for a holiday with a baby, including qualified babysitters and, above all, a relaxed environment for the first holiday with your baby.
The Tegernsee-Schliersee region in the Bavarian Alps offers the perfect mix of outdoor activities, wellness and relaxation, so you can enjoy quality time with your little one during your stay at Das Bayrischzell Familotel.
Enquire about a holiday with baby now
The Pletzi's Baby Corner at ourhotel in Bavaria offers everything parents need to look after their little bundle of joy. The separate kitchen is open for you around the clock and makes preparing baby food child's play, even on holiday:
Bottle warmer & microwave
Baby food (jars)
Bibs
Dishes & cutlery
High chair
Pletzi's Baby Corner complements our spacious apartments and makes it easy for you to look after your baby while on holiday.
If you have any questions about this package, our team will be happy to advise you.
Babysitting at Pletzi's Happy Club
As part of Pletzi's Happy Club, you can take advantage of free, qualified babysitting for your little ones from 10:00 to 18:00. In our care, you know your darling is in the best hands and can enjoy a short break for yourself. In addition, Pletzi's Happy Club offers a dedicated area for baby care with changing rooms and a baby room, which is very important for the well-being of the little ones.
Excellent amenities for holidays with babies
When on holiday with your baby, you'll appreciate the excellent amenities at Das Familotel Bayrischzell in Upper Bavaria:
Laundry for baby clothes
Babies require a lot of laundry. Our family hotel in Bayrischzell offers a well-equipped laundry room that you can use free of charge, so that you don't have to take countless bodysuits, bibs, etc. with you on holiday. Washing machines, dryers, irons and spare guest linen (sheets, bed linen, waterproofs, extra pillows and blankets) are available for you here.

Baby equipment loan service
Instead of packing the family car to the brim, parents with a baby can borrow certain baby equipment free of charge at Das Bayrischzell Familotel: baby monitor (in the room via mobile phone), bottle warmer and changing pad are available to borrow.
Wellness with your baby in Bavaria: Move & Relax
You and your baby are very welcome in our wellness area. You can also get your little one accustomed to the water in the baby pool at Pletzi's Water World , which offers a cosy environment to splash about and relax together.
Our 1,700 m² sports and spa area at Das Bayrischzell Familotel offers a range of spa and beauty treatments not just for mum and dad - your baby can also benefit from a professional baby massage (up to 1 year old). At our family hotel, parents can enjoy quality time with their baby to the fullest.
Discover nature together
You can also explore the wonderful nature of the Tegernsee-Schliersee alpine region with your baby. There ae many pushchair-friendly hiking trails andexcursion destinations that are suitable for a tour with your little one. If you have any questions about hiking routes and suitable excursion destinations for walks with babies, our reception team will be happy to advise you.
Get in touch:
+49 8023 8194 600
Advantages of our baby hotel in Bavaria
Upper Bavaria is a varied, but safe holiday region for travelling with a baby. The region'sexcellent infrastructure and warm hospitality make a holiday with your little one at Das Bayrischzell Familotel an unforgettable experience:
Spacious apartments (40 bis 85 m²)
4-star superior feel-good ambience
Qualified babysitters
Pletzi's Baby Corner
Baby equipment loan
Free laundry room
Wellness with your baby
Baby pool in Pletzi's Water World
Culinary delights for the whole family
Idyllic location in the Tegernsee-Schliersee alpine region
E-car charging station
When can you go on holiday with a baby?
It is best to wait until after the baby is three months old. Parents and baby need this time to get to know each other and to adjust to each other. Once the baby has settled into a feeding and sleeping routine, nothing stands in the way of your first holiday. Make sure that the needs of an infant can also be met while on holiday. This means: Avoid very hot holiday regions. Make sure you have good emergency medical care and book a family hotel that caters to the needs of parents and baby.
What does a baby need on holiday?
Even on holiday, your baby needs enough enough sleep, rest and its usual routines. That's why a relaxing baby holiday in nature is often the perfect choice. A family hotel offers everything you need to perfectly relax with your little darling. Babies are very sensitive to heat, which is why you should avoid very hot holiday regions. A holiday filled with cultural activities may be too stressful. Likewise, long journeys tend to be real challenge for babies and parents. That's why it's best to choose a safe holiday region with a moderate climate for the first holiday with your little one.
Where to go on holiday with a baby?
When choosing a holiday region with a baby , make sure that the climate is suitable. Too much heat is not suitable for infants, so choose a holiday destination in a temperate zone. Family hotels in nature are ideal, as they allow parents and baby enjoy peace and quiet and still experience small adventures on short hikes and excursions. Das Bayrischzell Familotel caters to the needs of families with babies. Stay with us and you will take home unforgettable memories of adventures with your little one.