EAT - balanced & regional cuisine at Das Bayrischzell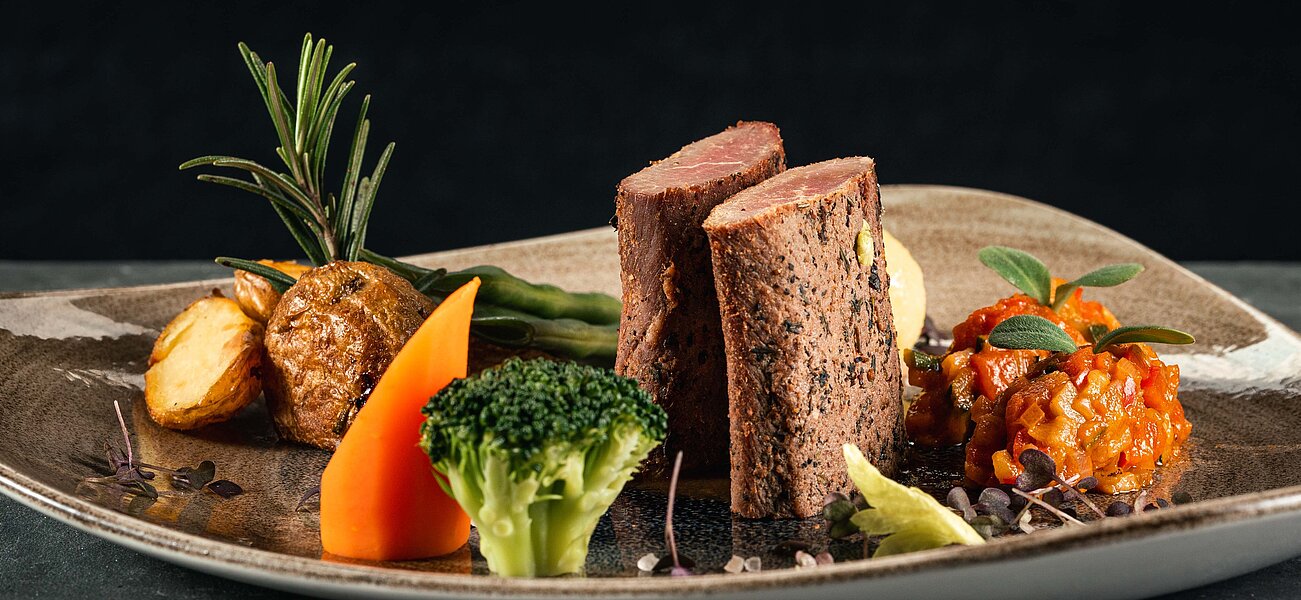 What is no holiday complete without? Good food, of course. After all, adventures can only be enjoyed to the full with the right meal. Thanks to selected ingredients and sumptuous dishes from our Move & Relax Energy Cuisine, we make your stay at Das Bayrischzell Familotel Oberbayern even more exciting.
To satisfy everyone's taste buds, we pamper all our guests - parents, children and teens - with a wide range of delicacies from the Upper Bavaria region. In doing so, we respond to the wishes of young and old as best we can and love trying out new things and surprising you.
At Das Bayrischzell, we attach great importance to a sustainable and healthy lifestyle. That's why you'll find a selection of fresh produce on your plates from morning till evening. We pamper you and your loved ones with sustainable delicacies prepared using regional ingredients, which can be found in abundance in nature in Upper Bavaria Not only does it sound great, it tastes great too! The sumptuous, healthy cuisine that we offer with our buffets and menus keeps you fit and healthy – just the thing for guests who like to be surprised.
What children & teens really like
Tastes are different. At Das Bayrischzell Familotel Oberbayern, we take that into consideration. That's why we offer our guests a rich selection of different foods and meals. Above all, the preferences of teenagers and children are reflected in our dishes.
Balanced buffets for teens and sumptuous delicacies for kids - with us all-inclusive (alcohol-free) for the whole family: Teenagers can be picky. Some prefer to stick to the same dishes, while others like to try something new. Whether it be meat, fish or vegetarian - in our kitchen we cater to all wishes and can create special dishes on request. Everyone who is a guest at Das Bayrischzell can enjoy a wide range of delicious food and drink . This, of course, is available around the clock.
Baby food & amenities: In the Pletzi's baby corner, you'll find everything our youngest guests' heart desires – from milk, jars of baby food and porridge to high chairs and bibs to toys and our own Familotel drink cups.
Balance is at the heart of our Move & Relax concept. That's why we provide facilities to play, romp, exercise and relax for all our guests, young and old alike. We particularly value our varied Move & Relax Energy Cuisine, which has been specially tailored to the PLETZER Resorts' Move & Relax philosophy.
We offer cooking courses on request, as well as personal nutrition advice for active holidaymakers. Guests who opt for nutrition consultation will be supported by our sports scientists and trainers. <strong/>Based on their advice, a training plan will be put together with a nutrition programme that your suits your needs.
Move & Relax Energy Cuisine Kids
Children want to grow big and strong. Nutrition plays an important role in the development of children and teenagers. That's why we've created our varied Move & Relax Cuisine not only for adults, but also for small children, school children and young adults. Our holistic nutrition, sport and relaxation programme makes a family holiday truly special.
Healthy meals for our junior guests
Children love to try new things – when it comes to food, you just have to make it delicious. That's why we prepare fruit and vegetables in a playful way at our hotel childcare centre,Pletzi´s Happy Club.Here your little ones can nibble whatever their hearts desires.
We also provide fresh fruit as a healthy snack daily at lunchtime. This makes it easy to leave out sweets, sweet drinks, chocolate bars, whey products, creamy yoghurts, etc. at lunch and during breaks.
We also try to avoid white sugar, white flour, margarine, palm fat, any trans fats, white rice, convenience food, glutamate, yeast extract and fried foods - for the sake of your children's health.
At PLETZER Resorts hotels, we place special emphasis on regionally-sourced ingredients for our meals. We not only serve our guests pure culinary delights; our kitchens also do something good for the environment. Short delivery routes mean we save on emissions every day and thus reduce our CO2 footprint.
At Das Bayrischzell Familotel Oberbayern, we also obtain a large part of the produce we use from regional suppliers:
Sausage and meat come mainly from the regional butcher Metzger Holenburger.
We usually prepare meat from animals that were born, raised and slaughtered in Austria.
We obtain fresh fruit and rich vegetables from the wholesalerMaier Früchtegroßhandel.
The pastries for our breakfast buffet are delivered fresh from the organic bakeryBio-Bäckerei Butz.
At Das Bayrischzell, we also serve organic cheese from theBiokäserei Walchsee cheese dairy.
Breakfast, lunch, snacks & dinner buffet for the whole family
Enjoy a relaxed start to the day with our breakfast buffet, a cosy lunch break in our restaurant and in the evening a sumptuous dinner with the children – whatever the meal, we strive to wow our guests with culinary delights andlay the foundation for a healthy and balanced life.
We have marked these healthy, balanced dishes and ingredients with our Move & Relax logo in green and blue.
We offer a Mover breakfast for sporty and adventurous guests in the morning. If you prefer a more relaxed start to the day, you can opt for our Relaxer breakfast.
In addition, our breakfast buffet offers guests a large selection of delicious foods:
Move & Relax Corner
Yoghurts (self-mix) & mueslis
Fresh seasonal fruits
Regional cheese and sausage selection
Healthy spreads
100% regional jams from Austria
Seasonal juices from the region & a juicer for the ultimate freshness kick.
Turmeric, ginger, fresh pepper & high quality salt for an additional IMMUNE BOOST

Turmeric has an anti-inflammatory effect, especially in athletes; the antioxidant properties of the spice also strengthen the immune system.
Ginger provides an immune boost
Salt for fluid balance
Pepper supports the immune system through its anti-inflammatory effect. Pepper is also recommended for fat burning.
The signs at our breakfast buffet how these selected ingredients can promote your health and that of your family as well as boost the immune system. In addition to adequate exercise and relaxation, we offer a holistic concept for your family holiday that specifically contributes to strengthening the immune system.
Warm egg selection
Crispy pastries
Freshly baked bread
Our lunch represents sustainable cuisine. A delicious, varied midday snack prepared with pleasure awaits the whole family. You can also recharge your batteries in the afternoon with an energy-rich snack - sometimes sweet, sometimes savory, always with coffee, tea and hot chocolate.
Then, for dinner you can again enjoy the benefits of a sumptuous, healthy buffet. You can choose between exquisite regional dishes and international classics:
Soups
Cold or warm starters
Fresh salads
Main courses with front cooking and a Move & Relax dish
Vegetarian selection
Selection of desserts from the hotel pastry shop and ice cream - healthy version also available
Eat healthier and more sustainably
Our Move & Relax philosophy is based on balance. We offer a successful combination of exercise, regeneration and nutrition to support you and your family on the path to a healthy lifestyle during your stay at Das Bayrischzell Familotel Oberbayern. Sustainable, regionally-sourced meals are the perfect complement.
Move & Relax philosophy: Energy cuisine for every guest
Our energy kitchen contributes to ahealthy, balanced lifestyle.
The energy cuisine helps to strengthen the immune system of our guests.
Exercise, balance and a healthy diet have been proven to strengthen our immune system and lead to better balance and health.
Energy cuisine useshigh-quality proteins, healthy fats and valuable carbohydrates.
Energy cuisine contains ingredients full of nutrients.
For our energy cuisine, we avoid unhealthy fats, high-glycemic and nutrient-poor ingredients.
Energy cuisine is delicious for children and adults and gives them new energy.
Do you have a question about our EAT concept or a special meal request for your stay at Das Bayrischzell Familotel Oberbayern?