Familotel
A philosophy that everyone likes!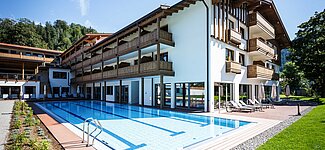 As a member of the hotel co-operation Familotel, Familotel Bayrischzell is specially designed and equipped to meet the needs of guests with babies, kids and juniors. Child-friendly furnishings and equipment as well as the extensive children's programme make the eyes of all young and young at heart guests shine.
For your all-round feel-good family holiday
Our friendly staff ensures a relaxed and carefree holiday for mommy, daddy & kid(s).
Optimal residential units with separate children's room, fridge and kettle.
Our trained child care staff looks after your children 7 days, 40-45 hour a week.*
Opening times Teens and Kids Club: from 9.00 am to 9.00 pm 6 days and 1 day from 10.00 am to 6.30 pm*
Children's lunch inlcuded
All day long non-alcoholic drinks from the self-service beverage station
Indoor pool with integrated children's pool with a water temperature of 30 degrees.
Spacious youth room for chilling out and listening to music
200 m² sports field for playing football, basketball and volleyball
300 m² of sun-drenched conference areas with state-of-the-art equipment
Rental of cot, high chair, buggy, baby back carrier, baby monitor, changing mat, potty, stool, bottle warmer
5% bonus with the Familotel Happy Card
*Offer can only be implemented to a limited extent due to the current situation until October 2020:
approx. 5 days a week 35-40 hours from 10.00 am to 6.00 pm.