Facilities & Services
Unsere Angebote für Ihren Familienurlaub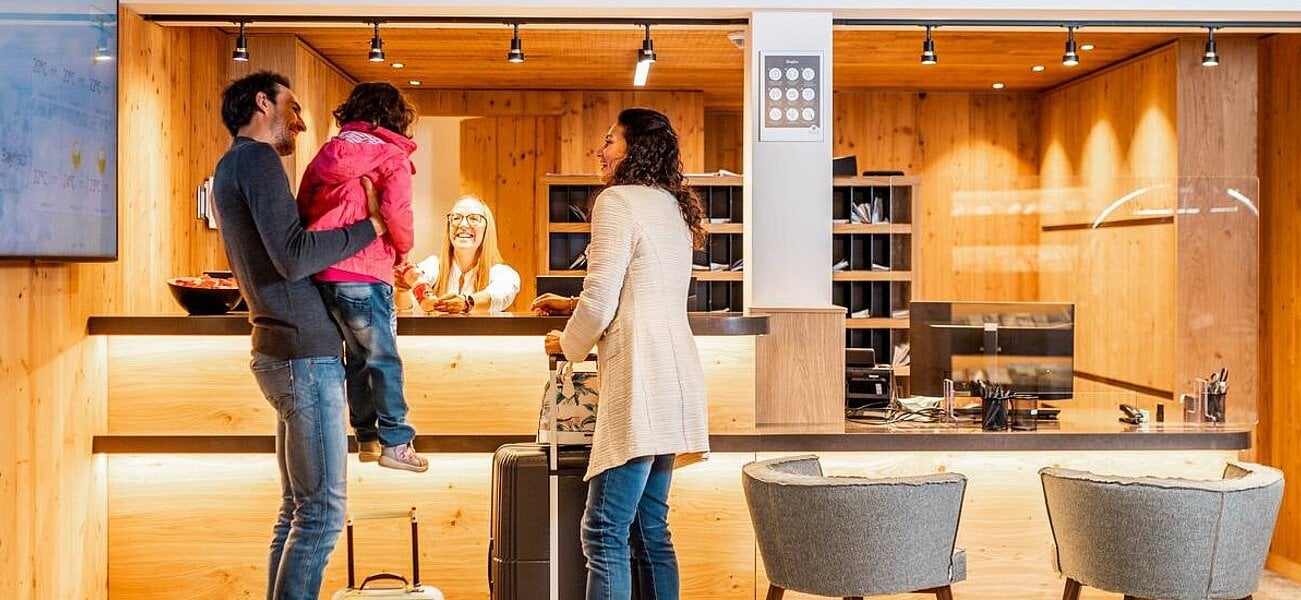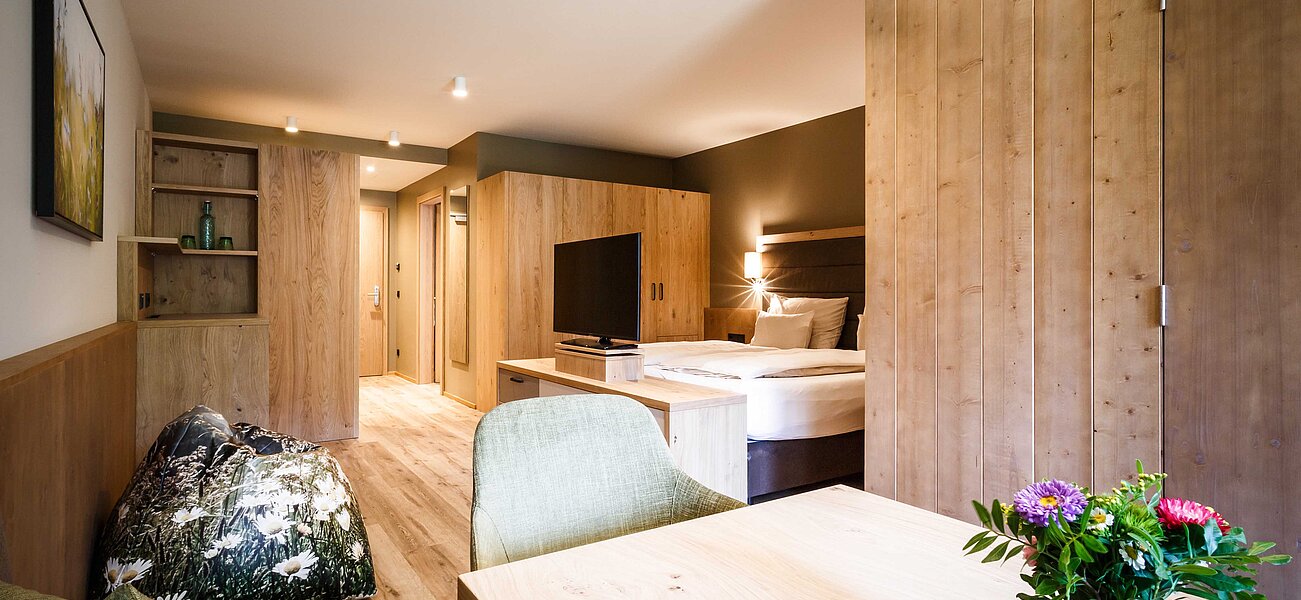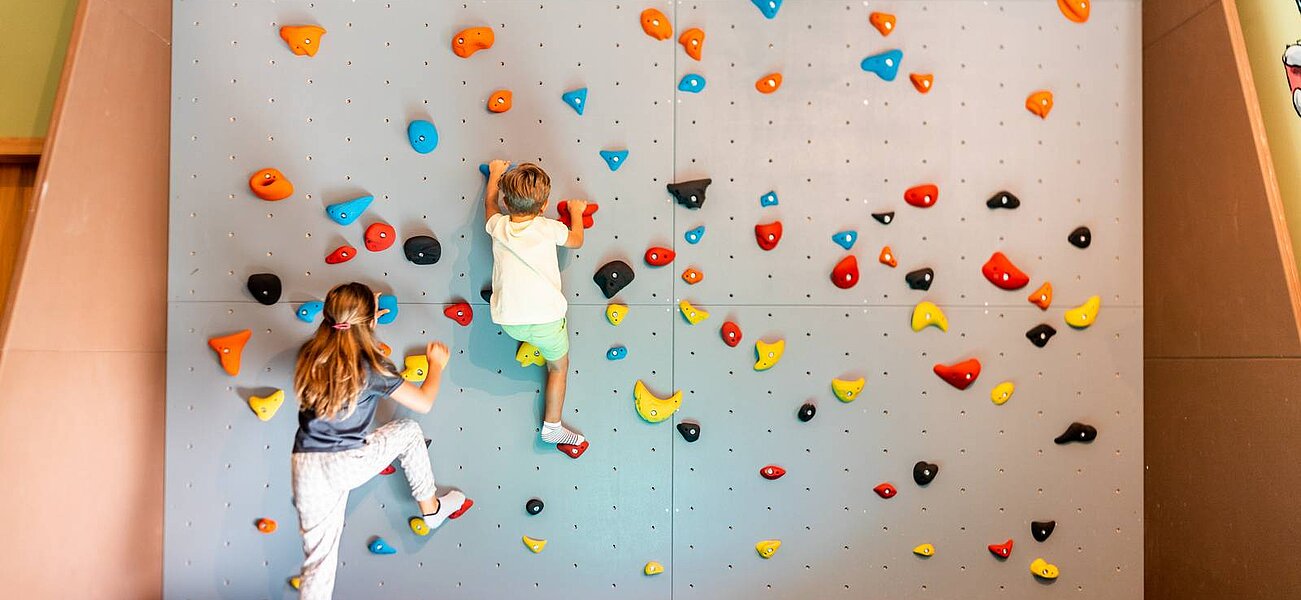 The facilities at our family hotel in Bavaria
What happens when you think of family holiday and seminar stay with a difference? The answer awaits you at the new Das Bayrischzell Familotel in Oberbayern. Because here we have created a new, unique concept for family and business in the heart of the Tegernsee-Schliersee region in the Bavarian Alps, where there's something for everyone. Where different needs are catered for. And where the whole family, big and small, gets a good portion of pure holiday feeling.
While the parents attend seminars and concentrate on important business matters, their kids & teens will be in good hands in the Pletzi's Happy Club or Teens Club, where they will have plenty of fun with our new Move & Learn concept. If we then add our Move & Relax concept, an innovative offer of exercise and regeneration, then you'll have it all - work-life balance at its best.
Meals from morning till evening: all-inclusive (alcohol-free) for the whole family - sumptuous breakfast and dinner buffet with regional and international cuisine, energising lunchtime snack, delicious afternoon snack, soft drinks from the drink dispenser, coffee and tea specialties until 5 pm
Childcare at least 60 hours/week incl. activity programme, from 3 years - under 3 years upon request for babysitter fee
Free entry to our 1,700 m² Move & Relax area with gym equipment, fitness courses, 25 m sports pool (1.40 m depth), indoor and outdoor pools (1.40 m depth), small children's pool (15-35 cm depth) with slide and water features, saunas, steam bath and relaxation lounge
Bathrobes and slippers for your stay
Free Wi-Fi
Spacious and modern family rooms, all with a separate children's room
1,700 m2 Move & Relax area
Spacious Teens Club to chill and listen to music
Indoor and outdoor pools and relaxation lounge with different saunas
25 m sports pool
Professional childcare and activities
Supervised children's lunch and dinner
Indoor play area with climbing wall
100 m² cinema
For kids: outdoor climbing park with lookout tower and sand play site
Wendelstein Park with delightful mountain stream
300 m² conference space with natural lighting and the latest technology
Free parking/bus parking
Beautiful alpine landscape for biking and hiking
Skiparadies Sudelfeld - family ski area in the immediate vicinity: one of the largest ski areas in Germany with slopes of all levels of difficulty, snow park, freeride cross in the Actionwelt section and cross-country ski trails
Rustic alpine huts and mountain inns that invite you to linger
Alpine lakes nearby for a refreshing dip
Gondola and cog railway to Wendelstein
Starting point for paragliders
Das Bayrischzell offers three new Move concepts
The focus is on exercise. Because those who exercise reach their goals faster. Whatever goals that may be. Move & Relax ensures a good balance between exercise and relaxation, Move & Learn stimulates kids & teens' motivation through movement to grasp new learning content with joy. Move & Work offers the opportunity for adults to be able to work in peace and also find time to discover and relax in nature together with the family.
Das Bayrischzell distinguishes itself with its unique Move concepts for children and adults, where nature and exercise make your holiday unforgettable.
Move & Relax
The unique fitness and wellness concept, individually developed for you by Tyrolean sports scientists
As the name suggests, Move & Relax is all about the balance between exercise and rest, tension and relaxation. The innovative concept generates a holistic performance improvement through the contrast between dynamism and regeneration - individually tailored to you. Developed by the Austrian ski jump Olympic champion Toni Innauer and optimised in collaboration with the University of Innsbruck's sports science department, the concept allows you to enjoy a balanced interplay between yin and yang, active movement and tailored regeneration. Supplemented by healthy nutrition, you'll return home feeling revitalised and bursting with energy.
Move & Relax is a completely new, unique concept that optimally combines scientific findings from competitive sports with healthy nutrition and the personal need for rest as well as a healthy lifestyle - for more energy in life and good physical wellbeing. Individually tailored, very easy to implement.
To ensure you integrate exercise into your holiday and your life, you can book a health check with us, combined with a personal training plan, massages and treatments. We recommend you book in advance.
Move & Learn
For kids & teens: Learning by playing
As the Latin saying goes, "Non scholae, sed vitae discimus", which means "We do not learn for school, but for life." In Das Bayrischzell, you could draw the opposite conclusion, because kids & teens here live for learning. We offer many exciting experiences for your little ones: indoors and outdoors, online and offline, turning what is often considered unpopular into a great adventure.
In Pletzi's Happy Club, the little tykes will discover a world of fun where they can let off steam with a variety of fascinating Move & Learn activities. They include exploring the nature around Bayrischzell in ways that develop their skills and creativity. The playful approach is designed to encourage previously hidden talents and discover and practise new skills. This in turn generates a whole new energy and rekindles the desire to learn.
"Life is learning" and not necessarily a conscious or intentional process, but mostly unplanned and incidental. The spectrum of what can be learned is almost infinite.
Move & Work
The symbiosis of business & family in the midst of the Bavarian Alps
This new idea provides fresh dimensions for holiday in nature. Combining business and pleasure has always been appealing. The symbiosis of Move & Work now offers you a unique opportunity to combine work and holiday, seminars and family.
Move & Work in Das Bayrischzell Familotel - your conference hotel in Upper Bavaria: We offer 300 m² of conference space, equipped with the latest conference technology and a terrace. The main conference room can be divided into 2 separate conference rooms, each 100 m², for working in smaller groups, team building, etc. Additional conference space is available in our Club Room and Zirbenstube. We also offer a range of combined active or wellness conference packages.
And the family? They will be spoilt for choice. We offer active Move & Relax programmes for the adults and Move & Learn for the kids. Or they can simply explore the breathtaking nature of the surrounding Bavarian Alps and inhale the fresh mountain air.