Relaxed travel - enjoy vacation (even more)
Green Travel
Travel comfortably and stress-free by train - right to our front door! The stop is 150 m opposite our hotel. An electric car is available to you for your trip into the blue on one day. In this way you can explore the region around Bayrischzell sustainably and have plenty of time to escape from everyday life. After exciting excursions, our Move & Relax area is waiting for you and your loved ones. Let us spoil you with our half-board family.
Move & Relax - the unique fitness and wellness concept, individually developed for you by Tyrolean sports scientists. True to the motto Move & Relax, you can book your personal health check, your individually tailored training and your beneficial massages in advance. The harmonious interplay between active movement and tailor-made regeneration - supplemented by vital nutrition - forms the basic philosophy of our house.
Move & Learn - in and with Upper Bavarian nature. For big and small adventurers, where experiences inside and outside as well as online and offline make your vacation unforgettable.
Services included in the package
from 7 nights
Enjoyment from early to late: All-Inclusive alcohol-free for the whole family
15% discount on the room rate on presentation of the rail ticket at check-in
1 day e-car use - depending on availability
The offer is only valid for those arriving by train (train departure from home to Bayrischzell) and only on presentation of the train ticket.
Child care at least 60 hours / week incl. Program, from 3 years - under 3 years free childcare from 10.00 am to 6.00 pm
Entry to the Move & Relax area including group training
Bathrobes and slippers for your stay
Free WiFi
Duration of stay
from 3 nights
Included meals
Enjoyment from early to late: All-Inclusive alcohol-free for the whole family
Price

from € 470.00 per person for 3 nights
(in the Wendelstein apartment | 40 m²)
excl. tourist tax EUR 2,00 per adult | EUR 1,00 per child (from 12 years)
Other:
Every Saturday from 5.00 pm - 7.00 pm you will find an information desk in the hotel, where you can inquire about the extensive range of outdoor sports activities from our outdoor partner Top On Mountain.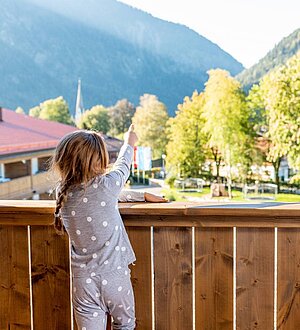 Bayrischzell
Weekend and sunshine
Treat yourself to a short break over the weekend at a top price.
Details
from
€ 376.00
Weekend and sunshine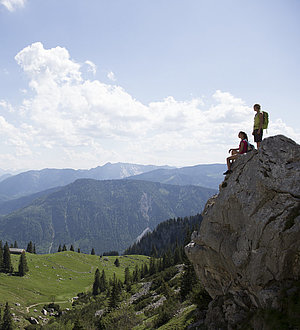 Bayrischzell
Wonderful hiking pleasure!
Discover the alpine pastures, forests and summits in the idyllic hiking area…
Details
from
€ 996.00
Wonderful hiking pleasure!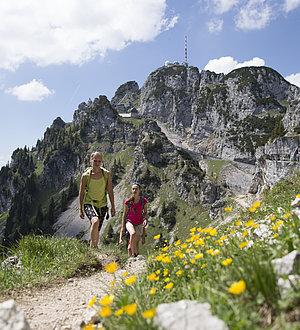 With the Wendelstein family-combination-ticket you climb the highest mountain in…
Details
from
€ 1,479.00
Summiteers