Learn coding
Programming:
Coding for Kids & Teens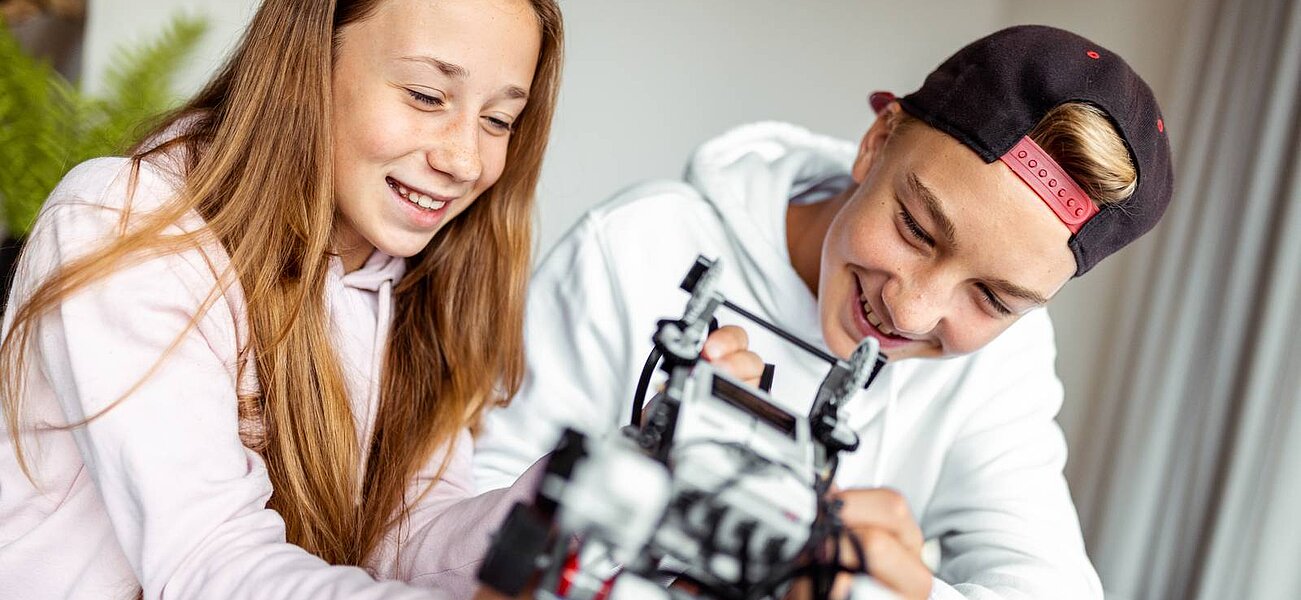 Coding for Kids is not always the first thing that comes to mind when planning a family holiday. But at Das Bayrischzell Familotel, your children will relish the opportunity to get a taste of programming. Under our Move & Learn programme, kids will be taught the basics of programming through playful interaction with robots.
Enquire about Coding for Kids now
Learning to program – the cultural technology of the future
Prominent scientists and experts consider programming aa cultural technology that will be just as important as reading and writing or using a computer in the future. So what better way for your children to spend the supervised time in our family hotel than by having lots of fun learning the basics of 0 and 1?
Coding for Kids combines play, discovery and learning in an educational way and is also great fun. Of course, learning coding only makes sense if the kids are taught by programming experts in a child-friendly manner.At Das Bayrischzell Familotel in Upper Bavaria you can count in it.
Please feel free to contact us:
+49 8023 8194 600
Blue Bot & Bee Bot for the little ones
Blue Bot and Bee Bot, the two spacey robo beetles show the kids how very simple commands can be combined to form a series of commands. Children from the age of 4 can enter commands on the back of the beetles or place commands cards in a different order. Varying the order of the cards will help the little ones understand the concept of commands and thus get an idea of program sequences.
Older children use tablet control and try to outdo each other in increasingly difficult tasks.
Operate robots: Botely
Botely is a nerdy little robot that can be programmed by children using simple commands. The little scientists enter commands in the form of arrows and symbols either with cards or via remote control. The commands given then instruct the bot to walk forwards, backwards, sideways, avoid objects or move objects. Participants have access to large number of accessories, allowing them to set up an entire course or initiate a chain reaction. It's fun and the kids learn a great deal.
LEGO Technic, geocaching, etc.
At Das Bayrischzell Familotel in Upper Bavaria, Coding for Kids is just one of the many fun-filled children's activities on offer. Depending on the age group, junior guests can participate in exciting LEGO Technic projects, which include construction and programming, or child-friendly geocaching adventures. Older kids will be able to use child-friendly coding software learn to code.
Of course, Coding for Kids is just one of the many exciting activities activities for kids and teens at Das Bayrischzell Familotel Oberbayern. Today's mums, dads, teens and kids cherish quality time on their family holiday. As a modern family hotel, we do our utmost to ensure that the time spent here together is true quality:
In addition, there is a multitude of activities for parents and kids to enjoy in the picturesque Tegernsee-Schliersee region of the Bavarian Alps.
How can children learn to code?
Learning to program and computer courses for kids must be designed in a playful way. Children under the age of 14 rarely use standard programming language commands and structures. Instead, the principles of command sequences and how they are put together to structure a program are conveyed through simple, easy-to-understand commands and sequences. In most cases, simple commands are illustrated through child-friendly figures (animals, comics, robots, etc..), either with software or toys that provide a hands-on experience. Building on this, participants will then learn more complex commands and integrate more complex sequences into programs.
What are the benefits of learning coding for kids?
Programming hones basic skills that are important in many fields, such as arithmetic, logical thinking and problem-solving skills. Programming is also the cultural technology of the future. Experts believe that future generations will need to understand the basic concepts of programming for work and in everyday life just as much as they need the PC orsmartphone today.