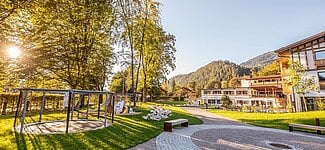 Dear guests & families!
Longing for games, fun, action and relaxation? All around the wonderful mountains, sporting activities, alpine discovery tours, high-altitude flights of all kinds - holidays that can come true again with us.
Since 31 May 2021 we are open for you again. The Bayrischzell Familotel Oberbayern will be there for you again with full vigor and an extensive hygiene and safety concept.
For your questions, your information and your bookings, we are happy to be available via email reservierung@dasbayrischzell.de or by phone at +49 8023 8194 600.
You can reach us at:
+49 8023 8194 600 | info@dasbayrischzell.de
Stay healthy and see you soon
Das Bayrischzell team with Pletzi und Happy
When can the Bayrischzell Familotel Oberbayern open again for overnight stays?
The Bayrischzell Familotel Oberbayern incl. the entire Move & Relax area and the gastronomy may reopen from May 31, 2021. The prerequisite for opening is a stable incidence value below 100 on at least 5 consecutive days.
In addition to the known hygiene and distance rules, the following test obligations apply in particular:
Guests or visitors may only be admitted if they can show a negative test result (PCR test, antigen test) that is not older than 24 hours.
Incidence below 50: As long as the incidence in the county remains below 50, the test does not need to be repeated.
Incidence above 50: For longer stays, a test must be repeated every 48 hours if further services are used in the hotel.
Vaccinated and recovered persons and children up to the age of 6 are exempt from the test obligation. As proof we need the vaccination certificate or a certificate from the doctor.
In the district of Miesbach, the system "reihentestung.de" is used, which ensures smooth, fast, reliable and convenient testing. Results information and registration for the test can be done easily via smartphone.
And this is how it works:
1. you register once at www.reihentestung.de with your contact details and then receive a QR code by e-mail.
2. using this personal QR code, you can now take a quick test every 48 hours at one of the quick test stations - free of charge and usually without making an appointment.
Contact tracing in case of infection also plays a major role again this year. The Luca app will be used at numerous service providers - you can register here in advance easily and free of charge!
On site, we offer our guests 3 days a week (MO, MI, FR) a test road directly in front of the house. Alternatively, there is a test lane in the community at the local town hall on weekends and our opposite doctor's office Dr. Kronschnabel has test times additionally available during the week.
Should the incidence value unfortunately rise again during the opening hours/your stay and be above 100 for at least 3 days in a row, we will have to close the hotel again within 2 days and ask you to start your journey home. The services used until then have to be paid at check out. All unused nights will be credited back to you.
Furthermore our safety and hygiene concept of the house is valid.
All other important information about the county you will find under the following linkhere.
These adjustments are valid according to the current status. We reserve ourselves nevertheless at any time changes.