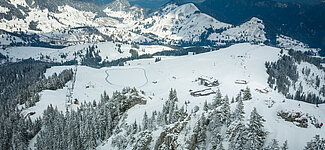 Dear guests & families!
Longing for games, fun, action and relaxation? All around the wonderful mountains, sporting activities, alpine discovery tours, high-altitude flights of all kinds - holidays that can soon come true again with us.
Due to the current situation, we had to close the hotel with a heavy heart on November 1st, 2020. At the start of the winter season, the Bayrischzell Familotel Oberbayern is again there for you with full vigor and an extensive hygiene and safety concept. The reservation team is available for you and looks forward to your winter bookings from Monday to Friday from 9 am to 5 pm.
So that you do not have to worry about your winter vacation and can spend a carefree time with us, we have a special offer for you:
You can reach us at:
+49 8023 8194 600 | info@dasbayrischzell.de
Stay healthy and see you soon
Das Bayrischzell team with Pletzi und Happy