Relaxation for the whole family
Relax for family
Relaxation for the whole family! With us at Das Bayrischzell in Upper Bavaria, it's very easy. The whole family relaxes with a soothing partial body massage. In addition, the wonderful nature in the Tegernsee Schliersee Alpine region beckons. After lots of fresh air, you can relax even better together in our Move & Relax area.
Move & Relax - the unique fitness and wellness concept, individually developed for you by Tyrolean sports scientists. True to the motto Move & Relax you can book your personal health check, your individually tailored training and your salutary massages in advance. The harmonious interplay between active movement and tailor-made regeneration - supplemented by vital nutrition - forms the basic philosophy of our house.
Move & Learn – in and with the Upper Bavarian nature. For young and old adventurers, where in- and outdoor experiences, both online and offline make your holiday unforgettable.
Valid from 08 May to15 May 2021, from 05 June to 03 July 2021, from 11 September to 02 October 2021 and 06 November to 23 December 2021
Services included in the package
from 7 nights
Adults: half board on family
Children: Kids All Inclusive
1x partial body massage per person (from 3 years)
Child care at least 60 hours / week incl. Program, from 3 years - under 3 years on request for a babysitter fee
Entry to the Move & Relax area including group training
Bathrobes and slippers for your stay
Free WiFi
Duration of stay
from 7 nights
Included meals
half board on family | Kids all inclusive
Price

from € 891.00 per person for 7 nights
(in the apartment Wendelstein | 40 m²)
Other:
Every Saturday from 5.00 pm - 7.00 pm you will find an information desk in the hotel, where you can inquire about the extensive range of outdoor sports activities from our outdoor partner Top On Mountain.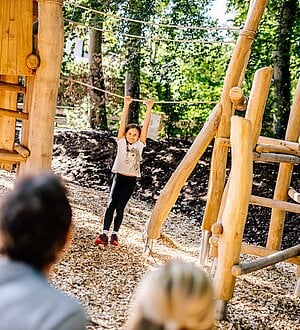 Bayrischzell
Relaxed spring days
Exercise and relaxation - this package includes both! According to our Move &…
Details
from
€ 432.00
Relaxed spring days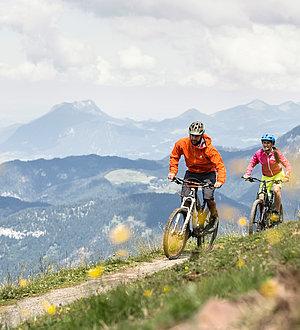 Bayrischzell
Family on bike
You love mountain biking or you want to try it out with your family? Then book…
Details
from
€ 1,069.00
Family on Bike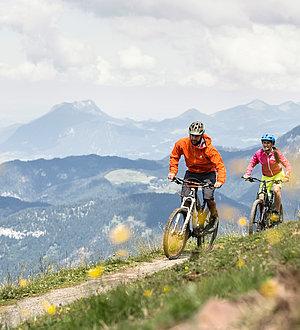 from
€ 1,069.00
Family on Bike